Spring2ACTion Day
Wednesday, April 25, 2018
We are excited to be participating in ACT for Alexandria's Spring2ACTion campaign, a 24-hour online fundraising drive for local nonprofits on Wednesday, April 25! Our goal is to raise $13,000 in just one day, to support our work helping families overcome homelessness.
Click here to be part of the excitement and give online on the big day, Wednesday, April 25. Can't wait? Donations between April 11 and April 25 count toward our total.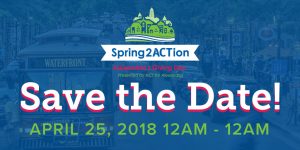 A big thank you to the following for offering matching funds: Kris Finney  ($1,000), Church of the Covenant Presbyterian ($1,200) and a group of individuals from Nova Catholic Community ($1,200)! This means that the first $3,400 we raise will be matched! Donate early on April 25 and your gift will be doubled!
Donate $100 or more and receive a $10 gift card to South Block Juice, a micro juicery offering delicious smoothies, wraps, acai bowls and more!