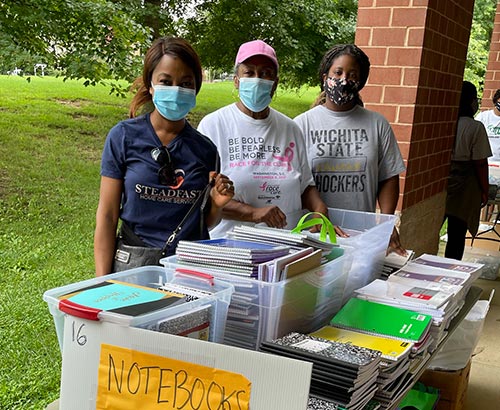 Becoming a volunteer is an easy four-step process.
1. Volunteer Application

Email volunteer@bridges2.org and request a volunteer application. This information will help us learn more about your interests, availability, and background.

2. Volunteer Forms

Sign waiver and photo release forms. All volunteers must review the volunteer Handbook and volunteer orientation link. All Completed forms can be emailed to volunteer@bridges2.org.

3. Newsletter

Sign up for our volunteer newsletter for communication about volunteer opportunities and sign up for our general newsletter for additional information each month about updates at Bridges to Independence.

4. Background Check

When you submit the forms, you will receive information about submitting a background check if your volunteer opportunity requires one.
Do you need help or supportive services?
If you or someone you know is experiencing homelessness, or at risk of becoming homeless, contact Arlington County's Department of Human Services Community Assistance Bureau (CAB) at 703-228-1300 for help. In case of shelter need during non-business hours, please call 703-228-1010 for assistance.
Arlington County also is offering special assistance with rent, food, and vaccination information during the pandemic. Call 703-228-7999 or visit https://publicassistance.arlingtonva.us/.
If you live in the Green Valley community and are in need of supportive services, please call 703-525-7177.