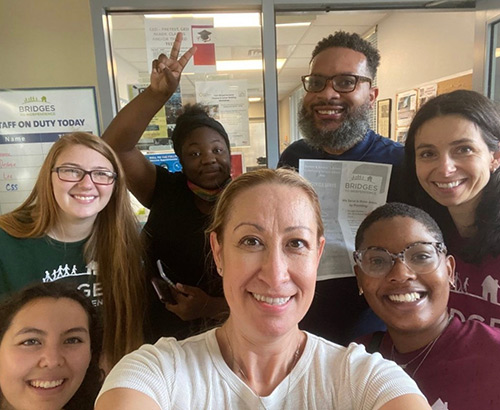 Bridges provides programming to move families from minimum wage to livable wage by helping them acquire additional certifications or further their education, such as supporting them in obtaining their GED or helping enroll them in ESL classes. The program also helps families get a better paying job through resume support, interviewing practice, sharing job leads, and job fair opportunities. One-on-one mentoring support is provided, and Bridges meets them where they are to tailor an action plan for them going forward. By becoming economically self-sufficient, this will enable families to sustain permanent housing and build longer-term financial security.
Do you need help or supportive services?
If you or someone you know is experiencing homelessness, or at risk of becoming homeless, contact Arlington County's Department of Human Services Community Assistance Bureau (CAB) at 703-228-1300 for help. In case of shelter need during non-business hours, please call 703-228-1010 for assistance.
Arlington County also is offering special assistance with rent, food, and vaccination information during the pandemic. Call 703-228-7999 or visit https://publicassistance.arlingtonva.us/.
If you live in the Green Valley community and are in need of supportive services, please call 703-525-7177.