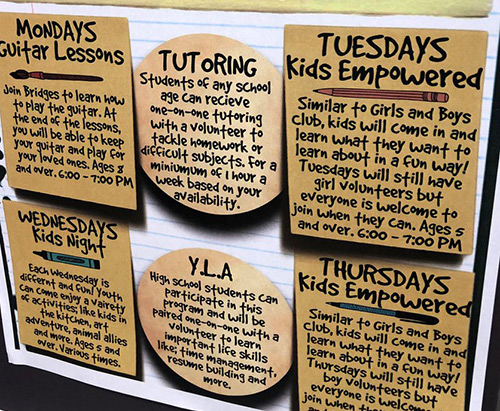 Bridges offers programming to any youth currently in shelter, the housing program, or to those who are "alumni" of either, which includes tutoring, mentoring, leadership and entrepreneurial skills, and evening activities such as crafts, cooking, music, swim lessons, and more. The program aids these youth in improving their academic skills, self-esteem, job readiness, health and well-being. The goal is to give the youth the confidence, skills, and tools needed to pursue and complete post-secondary education or vocational training, providing them with a pathway to economic security.
Do you need help or supportive services?
If you or someone you know is experiencing homelessness, or at risk of becoming homeless, contact Arlington County's Department of Human Services Community Assistance Bureau (CAB) at 703-228-1300 for help. In case of shelter need during non-business hours, please call 703-228-1010 for assistance.
Arlington County also is offering special assistance with rent, food, and vaccination information during the pandemic. Call 703-228-7999 or visit https://publicassistance.arlingtonva.us/.
If you live in the Green Valley community and are in need of supportive services, please call 703-525-7177.