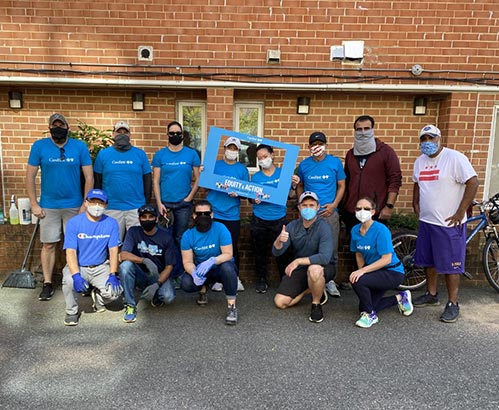 Bridges offers both group and individual volunteer opportunities.
Read below to explore the different volunteer opportunities we offer.
Because Bridges' on-site group volunteer opportunities are limited, we typically reserve these opportunities for only our community and corporate donors. If you'd like to become a community or corporate donor, please contact Christina Armstrong, Chief Philanthropic Partnerships Officer, at carmstrong@bridges2.org or 703-525-7177 x127.
If you have questions about volunteering, please contact Celeste McKenzie at cmckenzie@bridges2.org.
Do you need help or supportive services?
If you or someone you know is experiencing homelessness, or at risk of becoming homeless, contact Arlington County's Department of Human Services Community Assistance Bureau (CAB) at 703-228-1300 for help. In case of shelter need during non-business hours, please call 703-228-1010 for assistance.
Arlington County also is offering special assistance with rent, food, and vaccination information during the pandemic. Call 703-228-7999 or visit https://publicassistance.arlingtonva.us/.
If you live in the Green Valley community and are in need of supportive services, please call 703-525-7177.