Holiday Helpers Program: A Brighter Holiday For All
Now through December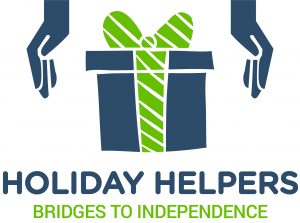 Holiday Helpers is designed to both promote the self-sufficiency of our participants and spread a little holiday cheer. Through the program, members of the community have the opportunity to sponsor a family or individual overcoming homelessness. We ask that you provide them with a gift card to an area store such as Target, Walmart, Macy's, Kohl's, etc. We suggest that you spend $50-75 per person (but any denomination is warmly welcomed).
We know people like to shop for gifts (especially for children), but we've found that gift cards help empower our parents. A gift card is a "hand up," not a "hand out." A holiday card or note of encouragement is also welcome!
Please email Melanie Farrell at mfarrell@bridges2.org if you are interested in sponsoring a family. 
Thank you for helping every family have a happy holiday season!