Annual Bridges Graduation Celebration
Saturday, June 3, 2017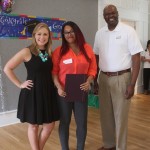 The community is invited to join Bridges to Independence clients, staff, and board for our most heartwarming event of the year – our annual Graduation Celebration. We will gather to honor the hard work and significant achievements of the many individuals and families who overcame homelessness this year. We are so proud of them!
Date: Saturday, June 3, 2017
Time: 10:00 a.m. (Presentation followed by brunch.)
Location: Unitarian Universalist Church of Arlington, 4444 Arlington Blvd., Arlington VA 22204
Please RSVP here.