A refreshing way to give back!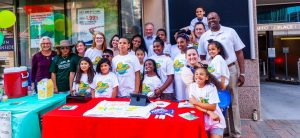 Our kid-run Lemonade Stand is the centerpiece of Bridges to Independence's summer youth program. Participants practice good decision-making, a strong work ethic, and reliability through promotion, prep/cleanup and management of their own lemonade stand.
At the same time, youth learn valuable financial literacy skills through a series of workshops taught by Arlington Community Federal Credit Union. Half of the money raised is used for participants to open their very first savings account and the other half supports an end-of-summer field trip. The Lemonade Stand runs from July 1-August 3, 2019.
STAND SCHEDULE
Tuesday, July 2, 5:30-7:00 pm
Goodwin House, 3440 S Jefferson St, Falls Church, VA 22041
Special Guest Pourer: Joy Stephens, Charles Schwab
Wednesday, July 3, 5:30-7:00 pm
Clarendon Market Commons, 2800 Clarendon Blvd, Arlington, VA 22201
Special Guest Pourer: Christian Dorsey, Arlington County Board Chair
Saturday, July 6, 11:30 am-1:00pm
ACFCU, 4121 Wilson Blvd #100, Arlington, VA 22203
Special Guest Pourer: Chris Sundlof, ACFCU
Tuesday, July 9, 5:30-7:00 pm
Arlington Pacer's, 3100 Clarendon Blvd, Arlington, VA 22201
Special Guest Pourer: Garrett McGuire, AT&T
Wednesday, July 10, 5:30-7:00 pm
Leadership Center for Excellence/Volunteer Arlington, 4420 Fairfax Dr #102, Arlington, VA 22203
Special Guest Pourer: Lisa Fikes, Volunteer Arlington
Thursday, July 11, 5:30-7:00 pm CANCELLED!
Clarendon Animal Care, 3000 10th St N, Arlington, VA 22201
Special Guest Pourer: Tommy Lee the Cat
Tuesday, July 16, 5:30-7:00 pm
BM Smith, 2501 9th Road South, Arlington, VA 22204
Thursday, July 18, 5:30-7:00 pm
Ballston Farmers Market, 901 N Taylor St, Arlington, VA 22203
Special Guest Pourer: Carolyn Ibacache, E*TRADE
Saturday, July 20, 12:00-1:30 pm
Goodwin House, 4800 Fillmore Ave, Alexandria, VA 22311
Special Guest Pourer: Barbara W. D'Agostino, Executive Director, Goodwin House Alexandria
Tuesday, July 23, 5:30-7:00 pm (2 locations)
1. Arlington Pacer's, 3100 Clarendon Blvd, Arlington, VA 22201
2. Volunteer Arlington's Arlington Cares,
National Rural Electric Cooperative Association, 4301 Wilson Blvd, Arlington, VA 22203
Wednesday, July 24, 5:30-7:00 pm
Enterprise Knowledge, 3100 Clarendon Blvd, Arlington, VA 22201
Special Guest Pourer: Zach Wahl, Enterprise Knowledge
Thursday, July 25, 5:30-7:30 pm
Ballston Farmers Market, 901 N Taylor St, Arlington, VA 22203
Special Guest Pourer: Jonathon Darling, CEO, TRG
Tuesday, July 30, 5:30-7:00 pm
Clarendon Market Commons, 2800 Clarendon Blvd, Arlington, VA 22201
Special Guest Pourer: David Kidwell, Chief Deputy of the Arlington County Sheriff's Office
Thursday, August 1, 5:30-7:00 pm
Animal Welfare League of Arlington, 2650 S Arlington Mill Dr, Arlington, VA 22206
Special Guest Pourer: Katie Bates, President & CEO, Arlington Chamber of Commerce
Saturday, August 3, 12:00-1:30 pm
Hair Cuttery, 2020 Wilson Boulevard Retail A2, Arlington, VA 22201
Tuesday, August 6, 5:30-7:00 pm 
Clarendon Animal Care, 3000 10th St N, Arlington, VA 22201
Special Guest Pourer: Tommy Lee the Cat