Senior Wish Lists
May 31, 2019
Seven of our Bridges youth are graduating high school and starting college this year! To make them feel as supported as possible, we created an Amazon Wish List for each student. We would greatly appreciate your support in helping these students start the year off right!
If you are interested in donating, please follow the link below the student's bio to see their Wish List. All donations can be mailed directly to our shelter (3103 9th Rd N Arlington, VA 22201).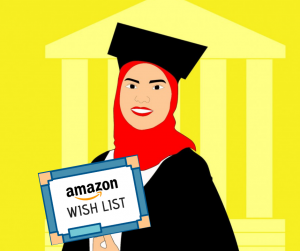 Andrew
I am excited to graduate from high school and start this new chapter in my life. I plan on attending Marymont University right here in Arlington but need your help with these items to be able to succeed in my higher education. These items will go directly into helping me in excelling at my desired mayor, sports management.
Jamie
I am so thankful to be a part of this program at Bridges and everything that has been offered to me while I have been here. I plan to use these items to further myself as an artist and explore new types of art. I love to create art for people, it gives me the ability to connect with them and allow them to feel like they are not alone.
Katie
Graduating high school is so exciting, I am ready to enter adulthood and feel like my own person. I am still exploring my options and look forward doing so at NOVA. I have so many passion and interests that it is simply to hard to choose but I think for now I will be looking into the medical field. With these items I will be able to excel and find the passion that fits me perfectly.
Luke
After high school I plan to attend George Mason university to major in kinesiology. I was lucky enough to receive a scholarship in wrestling and I am excited to wrestle at the division 1 level. I'm dedicated to my studies and wrestling and I am excited to see where that dedication will take me in the years to come.
Michael
The great community service that Bridges provides inspired me to give back to my community as well, through crew I volunteer with Athletes Without Limits which is a program that mentors and coaches mentally-disabled teens and adults to learn how to row competitively. Recently I have committed to Virginia Tech as I have been accepted into their engineering program. I plan to further my education in college and become an engineer when I graduate.
Rachel
I'm a dedicated student athlete coming from a single parented household, who received nearly a full ride to college. If it were not for the scholarship I received I probably would not be headed to college. It is like a dream come true to be attending college while participating in my favorite sport and pursuing a job that I will be able to live off of. I'm excited to experience new things in Florida and grow as a person, athlete, and leader!
Cam