JULY RECAP
Lemonade Stand Begins! 
Tuesday, July 2 – Tuesday, August 6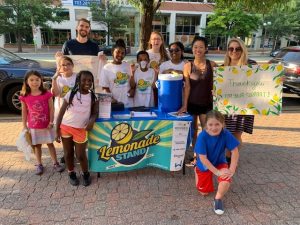 It's a summer-long way to give back! This youth-run enterprise is the centerpiece of our summer youth program. Participants practice good decision-making, a strong work ethic, and reliability through promotion, prep/cleanup and management of their own lemonade stand. Stands run July 2 – August 6. This event wouldn't be possible without the support of our sponsors and volunteers. Be sure to stop by a stand before it's too late!
Sydney's Restaurant Grand Opening  
Saturday, July 13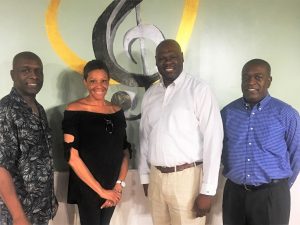 Sydney's Restaurant & Lounge was established with one goal in mind; providing high quality food and beverages with superior service, and showcasing class act jazz, R&B and other genres of music and entertainment. On Saturday, July 13, Bridges to Independence and Sydney's came together to celebrate the restaurant's grand opening.  Bridges was grateful to receive a portion of the evenings proceeds. Thank you to everyone who participated in the evenings festivities!
Arlington 
Cares
Tuesday, July 23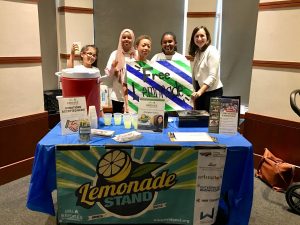 We hope that you were able to visit our youth at Arlington Cares for a refreshing lemonade! We were excited to be joined by Katie Cristol, Arlington County Board Member! Bridges is always thankful for the support of Leadership Arlington. Thank you for providing us with an opportunity to showcase our Lemonade Stand program.
Matt de Ferranti Visits Bridges 
Friday, July 26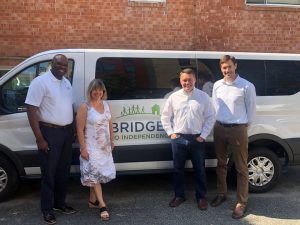 We were very excited to have Matt de Ferranti visit our Sullivan House shelter! Thank you for showing your support for local families experiencing homelessness. We are grateful for our Arlington community!
JUNE RECAP
Capital One Service Day
Wednesday, June 5

We were so happy to host 20 volunteers from Capital One Bank for a Day of Service! These volunteers cleaned our youth room, washed apartment walls, organized instructional materials, and deep cleaned an apartment for a new family moving in! Thank you for all your hard work!
Cigna 
Thursday, June 6 

Bridges was pleased to be a featured nonprofit partner at Cigna's Summit.
Deloitte Impact Day
Friday, June 7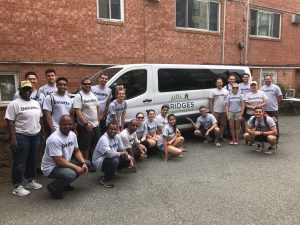 A big thank you goes out to Deloitte for sending a group of volunteers to Bridges to Independence for their ImpactDay! These volunteers spent their day gardening and cleaning out apartments in the shelter. We are so grateful to have support from this incredible organization!
Alexandria Rotary Club 
Tuesday, June 11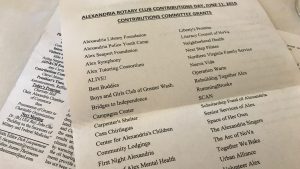 The Alexandria Rotary Club presented Bridges to Independence with a check for the Workforce Development Program.
TRG Takes Our Youth To A Nat's Game!
Sunday, June 16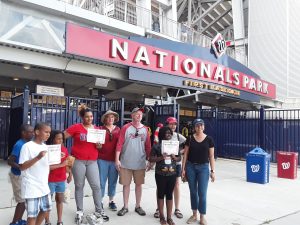 The TRG team took our youth out to enjoy a lovely baseball game at the National's Stadium! The Nat's not only won, but our kids had a fantastic time! Bridges is always thankful to TRG, and all groups who take our youth on such fun outings!
Handmade Quits Galore! 
Monday, June 24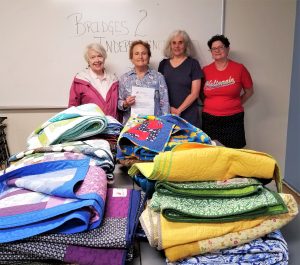 Our families were happy to receive 22 handmade quilts from the Arlington Quilters Unlimited group! Thank you for your generous, and beautiful, donation!
Calling All Crows 
Saturday, June 29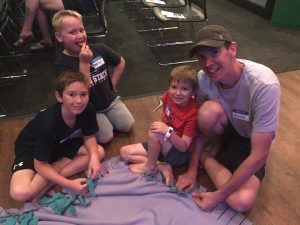 Calling All Crows community event featuring the band Dispatch where volunteers put together approximately 30 no-sew blankets for the shelter. Blankets are a need and this volunteer project truly helped! 
Bunny Hop Check Presentation 
Sunday, June 30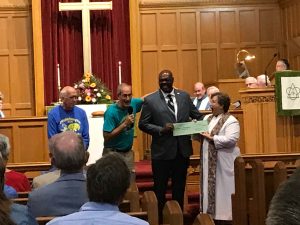 Sam Kelly (Bridges CEO) attended Sunday Mass at Clarendon United Methodist Church where he accepted the check from The Arlington Bunny Hop on behalf of Bridges to Independence. Denny Edelbrock  and John Glover (Race Director and Manager) were also in attendance. Thank you for your support!