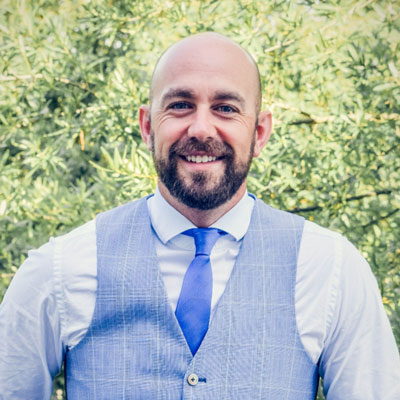 ARLINGTON, VA (June 16, 2022) — Bridges to Independence is under new leadership with the appointment of Fraser Murdoch as CEO. Mr. Murdoch joins the organization with experience that includes founding a social safety net nonprofit in Scotland, UK to his most recent post as the Executive Director of the Ashburn Volunteer Fire Department.

Fraser Murdoch holds a Master of Leadership and Change Management from The University of Aberdeen and a Bachelor of Arts in Theology from The Open University. Mr. Murdoch founded SoLove Motherwell, a nonprofit organization dedicated to anti-poverty work in Scotland, and has lived and worked on six continents.

"Fraser's appointment marks a new chapter for Bridges to Independence," said Board President Jennifer Mulchandani. "He brings a treasure trove of leadership, organizational growth and people management experience, cross-cultural competency, and a compassionate warmth. Our Board is excited that we found Fraser after an exhaustive, national-search process, as he is a great fit for where we are now and where we are heading as an organization."

Mr. Murdoch takes the helm after a period of growth for Bridges to Independence when increased government funding through COVID and a strong economy spurred larger budgets, a larger staff, and expanded services. As our community enters a new economic reality, Mr. Murdoch will shepherd the organization through what is expected to be a time of increased demand for our services as the eviction moratorium has ended and special COVID funding has ended. Mr. Murdoch inherits a strategic plan that envisions adding new services like affordable child care and a staff who are eager to address the many triggers of poverty.

"Like Bridges' dedicated staff who are on the front lines every day serving Arlington's most vulnerable residents, Fraser loves people and will be a tremendous asset to our community," said Rev. Craig A. Harcum, Board Member at Bridges to Independence and Pastor of Macedonia Baptist Church, which is located in the Green Valley neighborhood of Arlington near the Bridges Community Services Center.

"I'm humbled and excited to take the helm at Bridges to Independence. In so many ways, this position was 'coming home' for me while allowing me to continue my career in a way that gives back and helps people move forward. The staff at Bridges are dedicated professionals doing critical, front-line service, and it is an honor to lead them. I look forward to meeting the many supporters in our community soon.