Join Bridges to Independence for these upcoming events and activities in 2020 as we celebrate our 35-year anniversary this year!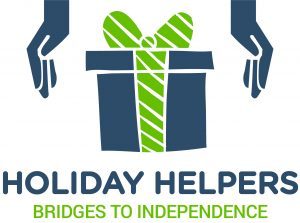 DATE: October 15 – December 10, 2020
LOCATION: Virtual or set up a contactless collection site!
DESCRIPTION: You and/or your network can sponsor a family in need during the holiday season. Collect gift cards,  such as Visa, Mastercard, or American Express with the goal of $50 per child and $100 per adult. This empowers the families to shop where they are and gives them the choice to purchase the color, size, etc. that they need.
Call us to personalize a campaign with your group!
CONTACT: Christina Armstrong, carmstrong@bridges2.org
———————————————————————————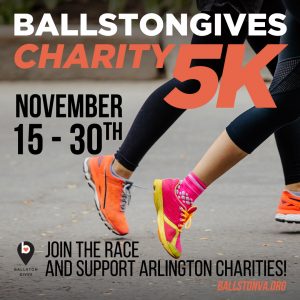 DATE: November 15th- 30th
LOCATION: Virtual!
DESCRIPTION:Get moving and support the Arlington community with the BallstonGives Charity 5K! Join the virtual 5K and donate to local nonprofits doing amazing work for the Ballston community and beyond.  From November 15th-30th, sign up to run, walk, or jog the BallstonGives Charity 5K. This event is virtual, so you can get your steps in when it fits your schedule. Registration for this event is $25, and all proceeds benefit local charities. Support your favorite organization with a donation directly to a specific cause!
REGISTRATION: https://www.raceentry.com/ballstongives-charity-5k/race-information
CONTACT: Emmy Hamed, ehamed@bridges2.org 
———————————————————————————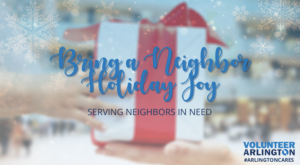 Date: November 1, 2020 – November 30, 2020
Description: For as little as $10, you can make a difference during the holidays. Volunteer Arlington is working with Arlington safety net partners organizations; AHC, Inc, A-SPAN, Bridges to Independence, and OAR. These organizations will use your donation to purchase gift cards to distribute holiday gift cards, allowing neighbors to purchase what they need at this time. Donations will be received through Friday, November 30th.
Donate: https://volunteer.leadercenter.org/civicrm/contribute/transact?reset=1&id=5
————————————————————————-

Arlington Turkey Trot
DATE: Thursday, November 26, 2020
LOCATION: Christ Church of Arlington, 3020 N Pershing Dr, Arlington, VA 22201
DESCRIPTION: Celebrate with us at the 15th annual Arlington Turkey Trot, bringing together 4,000 Arlingtonians! Grab on your running gear, put on your best holiday apparel, and join us Thanksgiving morning for this exciting event. Your support will benefit Bridges to Independence and our fellow nonprofit beneficiaries.
CONTACT: Christina Armstrong, carmstrong@bridges2.org
—————————————————————————–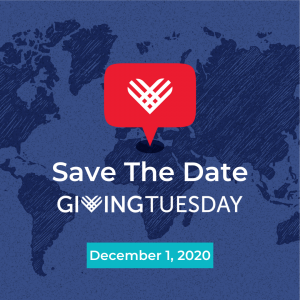 Giving Tuesday 
Date: December 1, 2020
DESCRIPTION: Join Bridges and our fellow nonprofits on for a Day of Global Giving on #GivingTuesday. After Black Friday, Small Business Saturday, and Cyber Monday, there is Giving Tuesday. GivingTuesday is a global generosity movement, unleashing the power of people and organizations to transform their communities and the world. Tell the world why you care about Bridges, show your #BridgeBuilder hashtag on social media, and make a donation of $35 or more to celebrate 35 years of good work in our local community.
Contact: Emmy Hamed, ehamed@bridges2.org
————————————————————————————-

MLK Day of Service
DATE: Monday, January 18, 2021
LOCATION: Virtual!
DESCRIPTION: Join Bridges and Volunteer Arlington on a "day on, not a day off" to participate in one of our three virtual projects. Participate in a fun cookie decorating contest, join the virtual food drive, or purchase a shower caddy and fill it with bathroom essentials for a local family in need. For more details, visit https://volunteer.leadercenter.org/mlk.
CONTACT: Celeste McKenzie, cmckenzie@bridges2.org
—————————————————————————–
DATE: April 2021
DESCRIPTION:Competitive runners, fitness/frequent runners, joggers/recreational runners & walkers/strollers are welcome! Join Clarendon United Methodist Church as it hosts the annual Arlington Bunny Hop. Bridges to Independence is honored to be a beneficiary, along with our partners at OAR. 5K finisher medals will be given to all children crossing the finish line.  A family style block party will be featured after the race with characters, free food, bounce houses and live music. Costumes are welcome and encouraged for this fun, family event.  Medals will be awarded to three finishers with the best costumes!
CONTACT: Christina Armstrong, carmstrong@bridges2.org
DETAILS: https://www.arlingtonbunnyhop.org/registration-info
——————————————————————————
May 2021 – DoMore24 campaign
——————————————————————————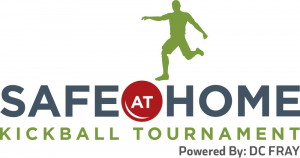 Kickball Tournament
DATE: Saturday, August 2021
LOCATION: Long Bridge Park, 475 Long Bridge Drive, Arlington, VA 22202
DESCRIPTION: Join us for the annual Kickball Tournament, a benefit to support Bridges to Independence and our mission serving families overcoming homelessness.
CONTACT: Christina Armstrong, carmstrong@bridges2.org
——————————————————————–

Arlington Young Professionals Care
DATE: Stay tuned for details!
CONTACT: Christina Armstrong, carmstrong@bridges2.org