Volunteer Spotlight
February 5, 2019
February 2019: Volunteer of the Month Ben Johnstone
I volunteer at Bridges because I believe in their mission. They give people the support and skills they need to get through difficult times and be successful on their own for the long term. They also help children by providing activities and tutoring.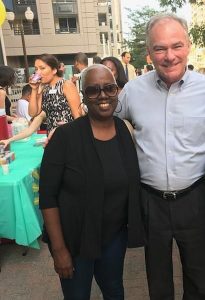 January 2019: Volunteer of the Month Velma Massenburg
"My family is a believer of God's command to love your neighbor as yourself, so we do all that we can to do just that, whenever and wherever we can.
I found Bridges to Independence about four years ago, and when I began volunteering, I didn't know much about the organization other than it sheltered families in need. During these years I have learned so much more.
The first graduation ceremony that I attended brought tears to my eyes as I heard graduate after graduate tell their stories about how Bridges not only sheltered them, but worked with their families to find permanent housing. Bridges helps these families find jobs, provides training sessions in finances, and so much more.
The Bridges Youth receive tutoring, attend summer programs and camps, and are given back-to-school essentials to help them succeed once they leave the shelter. What amazed me most was that Bridges doesn't simply drop them after they graduate from the program (because it is a program, not just a shelter), they keep being there as their support system.
I like to refer to myself as the go-to-lady because I can't dedicate specific time to Bridges, but rather when there is a need that I can fill, I fill it. If there is a job I can do, or a need I can meet, I meet it.
Finally, I take my hat off to the staff! The love, devotion and dedication of all of them is amazing. This is not merely a job to any of them, it is a true calling to serve those in their community who need a path back to living a productive, self-sufficient, independent life.
I am so happy to be able to serve others through Bridges to Independence.
I Peter 5:2 Be shepherds of God's flock that is under your care, watching over them – not because you must, but because you are willing, as God wants you to be; not pursuing dishonest gain, but eager to serve."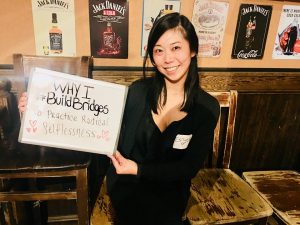 December 2018: Volunteer of the Month Esther Kim
"I have been a volunteer at Bridges to Independence for over a year and am honored to be able to serve as part of this organization. I sincerely enjoy the time I spend as a mentor every week in the youth program; I look forward to and prioritize every opportunity to volunteer. It is a truly rewarding experience to see the children grow and develop confidence through the programs and activities offered by Bridges to Independence.
What I find remarkable about Bridges to Independence is that they provide all the tools necessary to empower and encourage each individual and/or family with valuable skills, education and knowledge to "bridge" the gap from homelessness/ hopelessness to stability and self-sufficiency.
The staff at Bridges to Independence have impressed me with their warmth; the care and affection they have for each family that passes through and eventually graduates from the shelter is genuine. It is obvious that each member of the staff is passionate and cares deeply about the organization and it's mission.
I wanted to volunteer to practice radical selflessness, give back, make a difference and help others, but the reality is that volunteering/mentoring has helped me, healed me, and changed me by experiencing a rare and true love, cultivated by Bridges to Independence."