Senator Kaine Appears at Bridges Lemonade Stand
July 23, 2018
We were thrilled to welcome U.S. Senator Tim Kaine as a guest pourer at our youth-run Lemonade Stand last week!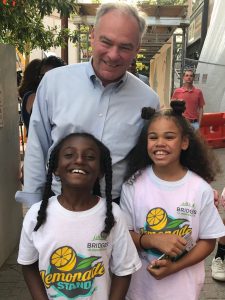 A large crowd gathered outside Arlington Community Federal Credit Union's Ballston branch, and the Senator patiently spoke with every person there, including the 13 kids working at the Lemonade Stand, who were eager to ask him questions and bring him cups of lemonade. One of our younger kids asked him, "Are you the Vice President?" and he smiled and ruefully replied, "Unfortunately, no. I'm just a U.S. Senator." (Oops! He took it well.)
Thank you, Senator Kaine, for taking the time to learn about Bridges and appear at our Lemonade Stand! What an exciting day for the Bridges kids, staff, and volunteers.
Learn more about the Lemonade Stand through this great news article and video from WDVM featuring two of our youth.
View photos from Senator Kaine's visit to the Bridges Lemonade Stand.