New Blinds Provide Privacy and Security In The Shelter
January 17, 2017
Bridges to Independence's emergency shelter, Sullivan House, provides safe and secure housing to men, women and children experiencing homelessness. We recently identified a much-needed upgrade to the shelter: new window blinds. The existing blinds were old and in disrepair – and some of the windows had no blinds at all.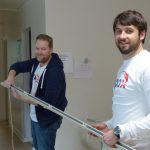 We set out to raise $1,500 for new blinds on "Giving Tuesday" in November 2016 and a group of thoughtful donors quickly helped us reach our goal. A generous grant from The Home Depot Foundation provided another $2,000 and the project was fully funded! We had enough to purchase new blinds for every single window in the shelter.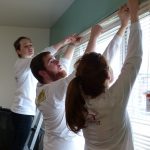 Phase one of the project was completed on Monday, January 16. Volunteer Fairfax connected us with Excella Consulting and 22 volunteers spent their MLK Day at Sullivan House for Excella's "Impax" day of service. The group eagerly pitched in to remove the old blinds and install new ones in 32 windows. The blinds look fantastic and provide much needed security and privacy for the shelter's residents.
The remaining old blinds will be replaced within the next few months. Thank you to everyone involved in this project!