Lemonade Success!
August 11, 2017
I scream, you scream, we all scream for….Lemonade!
Thank you to our generous community, sponsors, and partners for supporting this year's youth-run Lemonade Stand! With your generosity, our youth raised $2,600 – that's a lot of cups of lemonade! But the Lemonade Stand is about so much more than selling lemonade. It is about teaching at-risk youth valuable financial literacy skills and supporting Bridges' vision of breaking the cycle of poverty. Last week each of the youth opened their very first bank accounts (thanks Arlington Community Federal Credit Union) and on Wednesday they spent the day at Six Flags!
Every year the Lemonade Stand gets bigger and bigger, and that has a lot to do with the community's kindness and support. This year we took the Lemonade Stand "on the road" and visited four new partner sites, including the Ballston Farmer's Market, Hair Cuttery Courthouse, Clarendon Animal Care, and United Bank Clarendon. We were also pleased to return to Clarendon Market Commons and Arlington Community Federal Credit Union – thank you for continuing to support the Stand!
Throughout the month, our youth were joined by members of media, including Ryan Hughes (ABC7/New Channel 8) and Larry Smith (Good Morning Washington), and Arlington County Vice Chair Katie Cristol who served as guest pourers.
Thank you Westfourth Communications, Whole Foods, and Arlington Community Federal Credit Union for their generous sponsorships. And a special thanks to Hair Cuttery who donated a portion of their sales (nearly $1,000) to support our youth. Inspiring!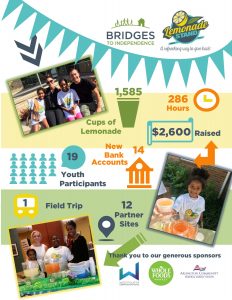 "I enjoy the Lemonade Stand because I get to work hard and
I get to meet new people and have fun."
-youth participant